Welcome to your nightmare
San Diego County's largest haunted experience, The Scream Zone is considered among the goriest, scariest, and screaming-est fright fests to be found in the dark corners of Southern California. We invite you to be our guests, that is, if you have the nerve!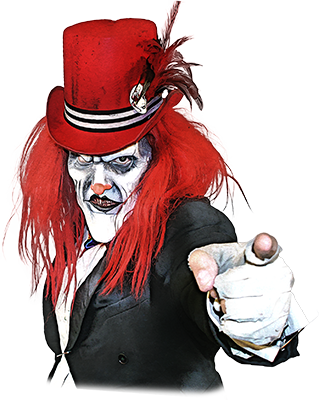 Your favorites are back: the horrifying House of Horror, the dizzying KarnEvil, and the Haunted Hayride, each casting its evil spell on the Del Mar Fairgrounds. New this year is Zombie Boot Camp! Learn how to survive the Zombie Apocalypse with this rough and tumble basic training course.
The 2016 Scream Zone is assembled from a collection of body parts and roughly stitched together into four terrifying haunts and other monstrous attractions. This year the Scream Zone runs 24 selected nights beginning September 30 and continues through October 31.
Other features this year include: The Dusk Till Dawn Bar, The Walking Dead Prison, and The Exorcist. We must warn you as well to keep a sharp eye out for Pennywise the Clown.
Opening night features the famed Triple Haunt at half-price (night of September 30 only).
Attention parents: You are welcome to enter The Scream Zone compound to wait for children. Our parent lounge is free and there are lots of things for you to do and see, including great food vendors and adult beverages. So come on down and enjoy The Scream Zone alone or as a family!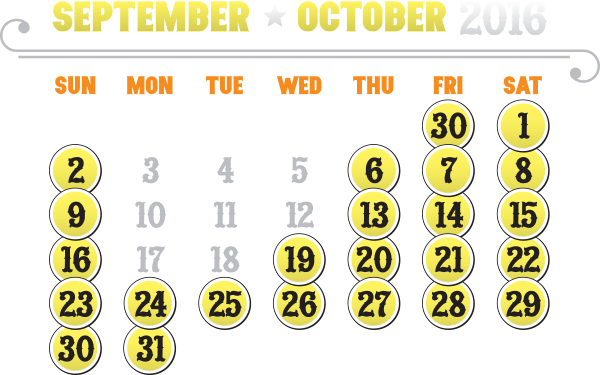 Times
Fridays & Saturdays:
Open from 7:00PM to Midnight.
Sundays thru Thursdays:
Open from 7:00PM to 11:00PM.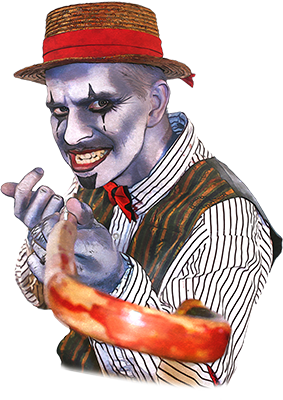 The House of Horror
The House of Horror  features room after room of frightening and surprising visual and visceral experiences. Imagine being trapped and moved by a bevy of clowns or shaken, rattled and upended so that you don't know where or who you are within utter darkness!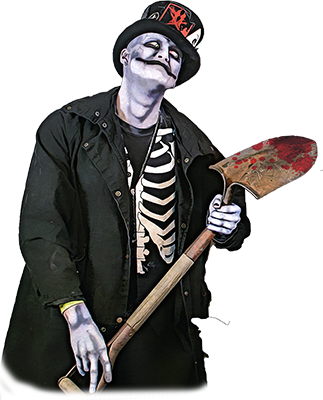 The Haunted Hayride
The Haunted Hayride piles visitors into a wagon with an unknown destination. Ride through the darkness terrified and filled with hallucinations, including Wicked Alice in Horrendous-land and a trip through the Rabbit Hole as part of the hair-raising ride through a Never, Never Land of creepy and petrifying clowns, zombies and other wicked characters.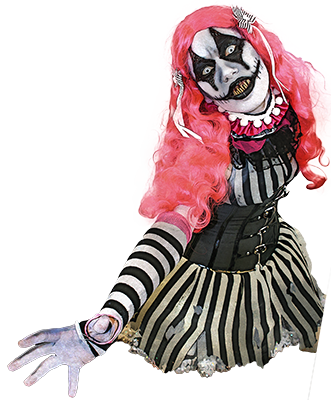 KarnEvil
KarnEvil is everything carnival and freak show, including the weird and surreal trailer park of clowns and a death spiral that leaves visitors disoriented and terrified.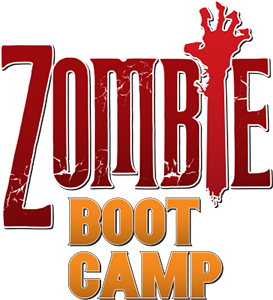 Zombie Boot Camp
Opening Thursday, October 6
Zombie Boot Camp is a basic training course for Zombie survivalists. Will you be ready for a zombie apocalypse? Zombie Boot Camp Survival groups will face multiple obstacles and challenges as they attempt to survive a zombie outbreak and preserve the future of civilization while being chased by the living dead.
This attraction requires running, crawling, and getting dirty. Athletic attire and footwear are encouraged. We do not take responsibility for patron's personal property, so it is advised you leave personal items and valuables at home. All participants will be required to sign a release of liability waiver upon entering the attraction and must present a valid ID. You are participating in the attraction at your own risk. No one under 18 will be admitted.
Online Sales
Avoid lines at the Box Office! Choose the night you want to attend and you'll see available ticket types and options available for you, your friends, and family. Questions? Get in touch with our Box Office.
Box Office
The Box Office is open during the same nights and times as The Scream Zone. Tickets to Zombie Boot Camp can only be purchased at the Box Office. More questions? Check out The Scream Zone FAQ.
Group Sales
For larger groups, we offer special pricing and discounts. With 20 tickets or more you can enjoy special pricing, menus, and the new RIP Lounge while avoiding long lines on busy nights.
Military
Military discount tickets are sold only at military base ticket offices and are subject to availability. For information on ticket prices and availability, call or visit a base ticket office near you.
1/2 Off Triple Haunt
Opening Night Discount!
Save $16.50 on a Scream Zone Triple Haunt and get three haunts for less than the price of one. Experience the full terror of The House of Horror, KarnEvil, and The Haunted Hayride.
Offer only valid on September 30 from 7:00PM to Midnight.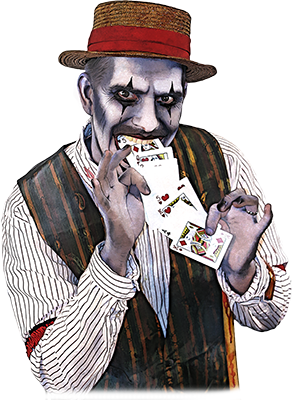 VIP Package
Save up to $50 on a VIP Triple Haunt
Double the Terror. Deluxe VIP Package includes:
Two Tickets to House of Horror

Two Tickets to The Haunted Hayride

Two Tickets to KarnEvil Chamber 

Two Fast Track Passes to The House of Horror

Two Fast Track Passes to The Haunted Hayride

Two Alcoholic or Non-alcoholic Beverages
VIP Tickets can only be used by the purchaser and are non-transferable.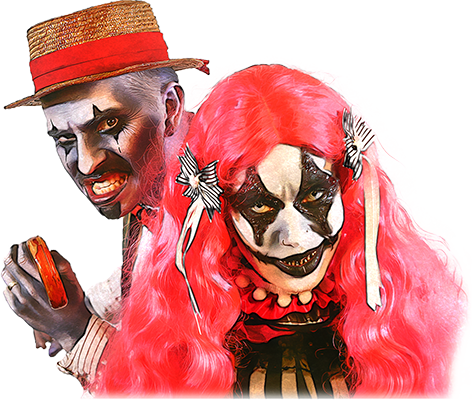 Del Mar Scaregrounds
2260 Jimmy Durante Blvd.
Del Mar, California 92014
Phone: (858) 755-1161
Let's Be Friends
FAQ
Check out The Scream Zone's Frighteningly Asked Questions.
Jobs
Countless hours are spent creating The Scream Zone, but our evil expanse would not be complete without the best and most terrifying team of haunters in the business. Actors and tractor drivers (for our Haunted Hayride), who are over age 18 and with a valid driver's license (for driving positions), may apply immediately on the Del Mar Scaregrounds' job page.
Give Us a Piece of Your Mind