Purchase 20 or more discounted Triple Haunt tickets and save up to $16 per ticket!
Triple Haunt tickets allow one-time admission into the House of Horror, Haunted Hayride, and KarnEvil. They are valid any one night The Scream Zone is open.
Group Sales tickets must be purchased online, in advance; group discounts are not available at the event gate. Tickets needed for Friday, Saturday, or Sunday night must be purchased no later than Thursday. The online form accepts credit card payment only. Cash, checks, or money orders cannot be accepted or processed.
Options:
Triple Haunt $27. Save $6.
Triple Haunt with double Fast Track for the House and Hayride $37. Save $16.
Food and Beverage vouchers $5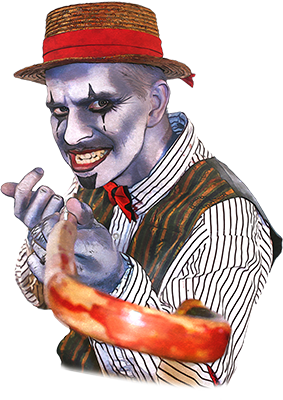 Order Forms and Information
Group Sales Order Form Order deadline is Monday, October 31 by 3:00pm
Group Sales Consignment Request: Call our office for information. Request deadline is Friday, September 30
Questions?
Call (858) 794.1096, Monday – Friday
Reserve the RIP Lounge
The RIP Lounge is a flexibly-sized outdoor space with hay bales and belly bars. The Lounge may be reserved exclusively for your group with the purchase of 20 or more Triple Haunt tickets; there is no additional charge for the space. Outside food or beverages are not allowed. Birthday cakes are allowed.
Call Group Sales to check Lounge availability and to reserve the space.