October 13:
Please note due to safety reasons and heavy rain, the Haunted Hayride will not be open tonight. 
We apologize for the inconvenience. If you have a pre-purchased Triple Haunt ticket for tonight, please note that Hayride portion of your ticket may be used  at a later date, through October 31, 2018.
Welcome to your nightmare
San Diego County's largest haunted experience, The Scream Zone is considered among the goriest, scariest, and screaming-est fright fests to be found in the dark corners of Southern California. We invite you to be our guests, that is, if you have the nerve!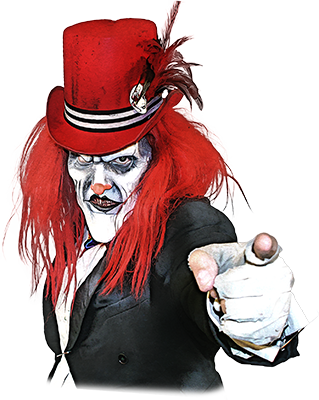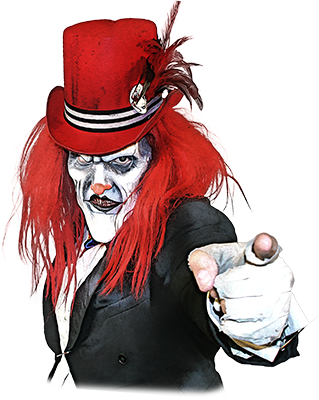 The Scream Zone is assembled from a collection of body parts and roughly stitched together into three terrifying haunts and other monstrous attractions. This year the Scream Zone runs 25 selected nights beginning September 27 and continues through November 2.
Your Triple Haunt favorites are back: the horrifying House of Horror, the dizzying Chamber, and the Haunted Hayride, each casting its evil spell on the Del Mar Fairgrounds.
Scaredy Cats are welcome to enter The Scream Zone compound at no charge if you want to wait for your children or hang with your friends but are too scared to enter the haunts. There are lots of things for you to do and see, including great food vendors, photo opportunities and our Spirit Lounge bar. Parking at The Scream Zone is free.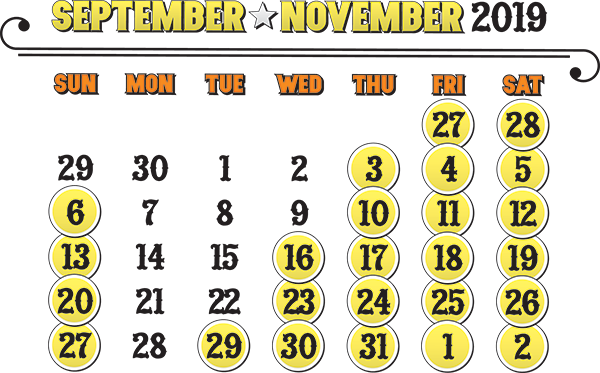 Times
Fridays & Saturdays:
Open from 7:00PM to Midnight.
Sundays thru Thursdays:
Open from 7:00PM to 11:00PM.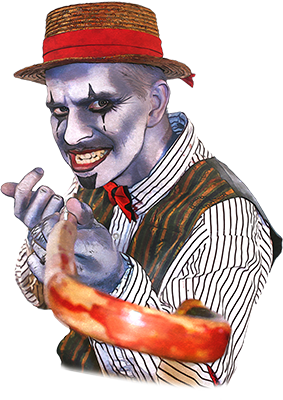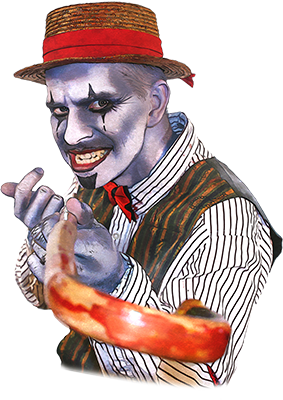 The House of Horror
The House of Horror features room after room of frightening and surprising visual and visceral experiences.
Creep through the abandoned Ghostly Mansion and walk amongst the dead in the Dia de los Muertos Graveyard. Have your fate determined by the deranged King in his judgement hall and join the tortured souls locked up for eternity in the Medieval prison.
Blood hungry, drooling Penny Wise awaits you in the Neibolt's house. Will his red balloon mark you as his dinner on the porch, the basement well, or will he devour you in the sewer barrows of Derry?
In the Zombie Maze…are they in front of you, above you, or following you and breathing down your neck.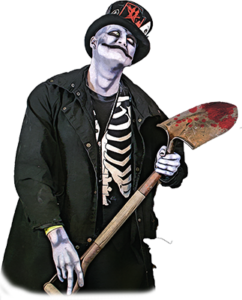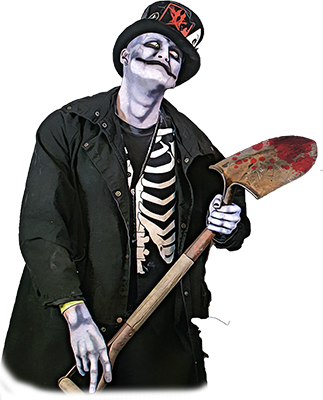 The Haunted Hayride
Huddle together in our Haunted Hayride, a bone chilling ride as every turn is a new challenge for survival.
Along your ride, you'll meet up with The Nun in her conjuring dead filled graveyard, roll through the vampire infested Dead End Truck Stop, push your luck in the Zombieland Midway, cart through Horror Icon Row, slide deep into the "Mutant Mine Shaft", and there's no traffic in the "Road Warrior and Fury Road" inspired Wasteland.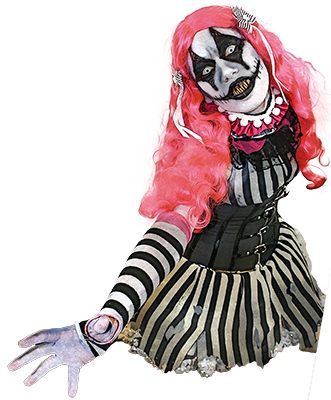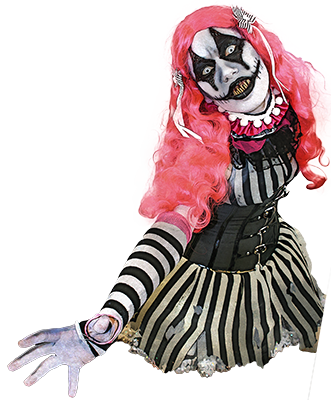 The Chamber
The Chamber invites visitors to Follow the Bloody Brick Road to the Wizard of AAAAAH's. Along the way, muck through the Pig Sty, tramp through the Fortune Teller's Trailer, experience a Tornado Tunnel, escape out of the Evil Witches Castle, and then click your heels together and chant "There's No Place Like HELL"!

Online Sales
Avoid lines at the Box Office! Choose the night you want to attend and you'll see all available ticket types, including our newly added Single Haunt option. Questions? Get in touch with our Box Office.
Group Sales
Buy in bulk and save a bundle!  Purchase 20 tickets or more and save.
Military
Military discount tickets are sold only at military base ticket offices and are subject to availability. For information on ticket prices and availability, call or visit a base ticket office near you.
Buy Early & Save $15
The early bird gets the deals. Save $15 on Triple Haunt or VIP tickets by purchasing your ticket online before July 31.
Not valid with any other offer or discount.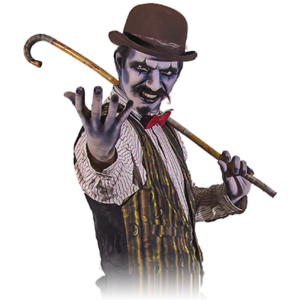 1/2 Off Opening Night
Triple Haunt admission is slashed in half for opening night only, Friday, September 27.
Opening night attendees will also receive a return coupon for a half-price admission on Wednesday, October 9.

VIP Package
This package is built for the true haunt-lover. The VIP Pass allows one person:
Entrance to all three haunted attractions two times (plus you'll get Fast Track entrance for the House of Horror and Haunted Hayride)

Two drinks of your choice…Pick your poison!

Souvenir VIP Badge & Lanyard
That's a savings of over $50!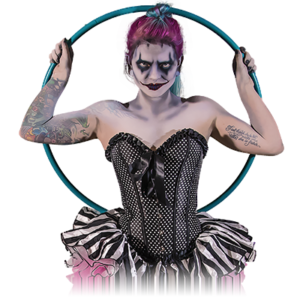 Slashed Price School Nights
Show your current High School or College ID, and save $10 on our Triple Haunt admission Sunday through Thursday nights.
Discount given at onsite Box Office; not available online.
Get a $5-off Coupon
At your local Goodwill Store
Visit the cashier at your neighborhood
Goodwill
 store for a $5 off coupon, while supplies last.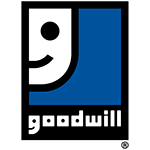 This fantastic deal is good for every fright night except Friday and Saturday.
Costume Contest
Sunday, October 13
Dress up in your most creative costume and join us on the 13th, if you're feeling lucky.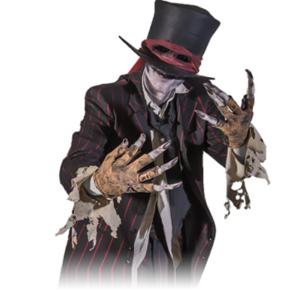 Spook-easy
Friday & Saturday Nights
Join us for hand-mixed craft cocktails in the ultra-swanky speakeasy, Demonology. Ask a roaming Scream Zone character for an exclusive R.I.P. invitation.
Out at The Scream Zone
Thursday, October 18
Join us for Out at The Scream Zone as our Scream Queens (and one Scream King!) take the stage for one special very night.
Save $10 on our Triple Haunt using promo code OUTSZ online or at the Box Office.
7:30-8:00 pm:
Scream Queens (& King)
Opening Trio (Hocus Pocus – Destini/Raquelita/Barbie Q), Sienna Desire, Lee Amore, Sammy Evil and Destiny Moore
8:00 pm: Blessing from Sisters of Perpetual Indulgence
8:05 pm: Pride Bingo
8:15-8:45 pm: Scream Queens (& King)
Dynamic Divas Duet – (Raquelita & Barbie Q), Sienna Desire, Lee Amore, Sammy Evil and Destiny Moore
8:45 – 9:00 pm: Meet & Greet
Electronic Fridays
Friday Nights
EDM fills the air with bone-chilling beats and dead-cool dubsteps. All ages are welcome to enjoy this electrifying dance music hosted by these killer DJs: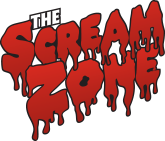 Del Mar Scaregrounds
2260 Jimmy Durante Blvd.
Del Mar, California 92014
Phone: (858) 755-1161
Let's Be Friends
Jobs
Countless hours are spent creating The Scream Zone, but our evil expanse would not be complete without the best and most terrifying team of haunters in the business. Actors and tractor drivers (for our Haunted Hayride), who are over age 18 and with a valid driver's license (for driving positions), may apply immediately on the Del Mar Scaregrounds' Job Page.
Give Us a Piece of Your Mind