Buy in bulk and save a bundle!  Purchase 20 or more discounted Triple Haunt tickets and save 50% on Saturday, Sept. 29. Save up to $16 on other nights.
Group Sales tickets must be purchased online, in advance. Group discounts are not available at the event gate. Read the order form for specific date availability. The online order form accepts credit card payment only. Cash, checks, or money orders cannot be accepted or processed.
Triple Haunt tickets allow one-time admission into the House of Horror, Haunted Hayride, and KarnEvil. Read the Home Page for attraction descriptions.
Options:
Triple Haunt – Saturday, 9/29 only, $17.  Save $17!
Triple Haunt NO Fast Track $28. Save $6!
Triple Haunt WITH double Fast Track for the House and Hayride $38. Save $16!
Food and Beverage vouchers $5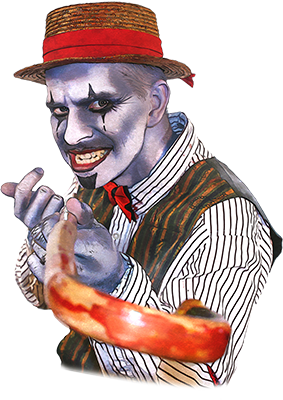 Order Forms and Information
Questions?
Call (858) 794-1096, Monday – Friday.